What is DS-Keywords?
DS-keywords (Formerly DS-Voice) is a market leading AI platform that detects and identifies keywords and phrases in video and voice files. It empowers digital forensic analysts to process, transcribe and analyse audio files both manually and automatically and in bulk.
No data is retained by the platform; data is processed and returned to the end-user for secure hosting in a datacentre of their choice. It works on multiple languages and for dialects. From a delivery standpoint, it is a secure hosted platform and is accessed via a browser or via one of DS Compliance partners, for example i2, Bluelight LLC or IBM
Used in Public Sector by Police forces and in the commercial world, DS-Keywords addresses the key issues of faster persomance, lower overheads and better services.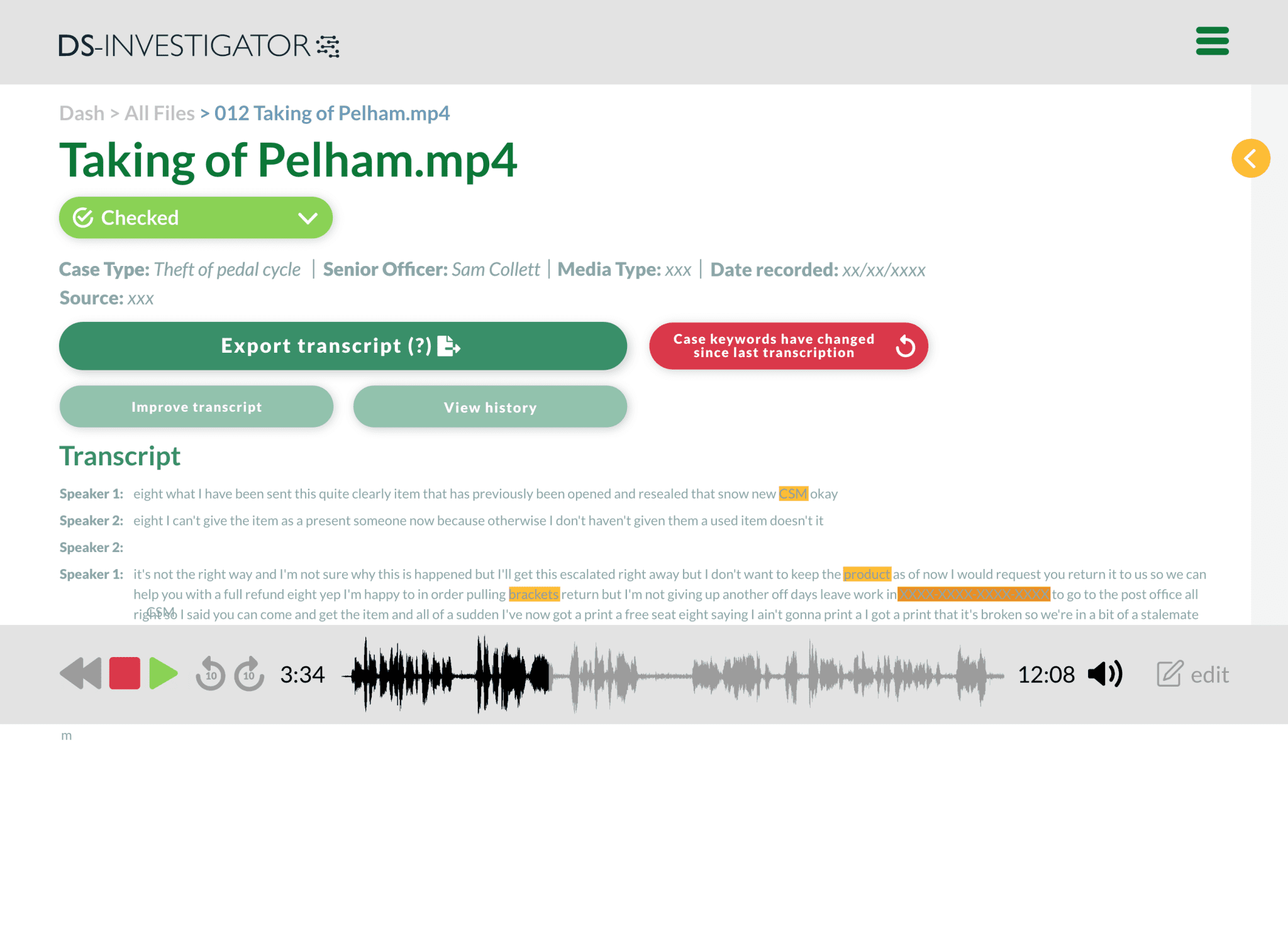 DS-keywords Advantages
Speed: bulk screening of voice and video files is time-consuming and tedious. The platform allows the automatic identification of keywords within files which can then verified by an analyst who can focus on relevant areas
Transcription & analysis: files are transcribed, and keywords or phrases flagged
Easy navigation: there is simple navigation to key parts of the file; backwards and forwards between transcript and voice recording
Distribution: files processed by the DS -Investigator platform can be forwarded to Investigation Teams for further action. This includes output reports for audit and disclosure
Processing at high volume & speed: DS -Investigator processes quickly with consistently high keyword detection accuracy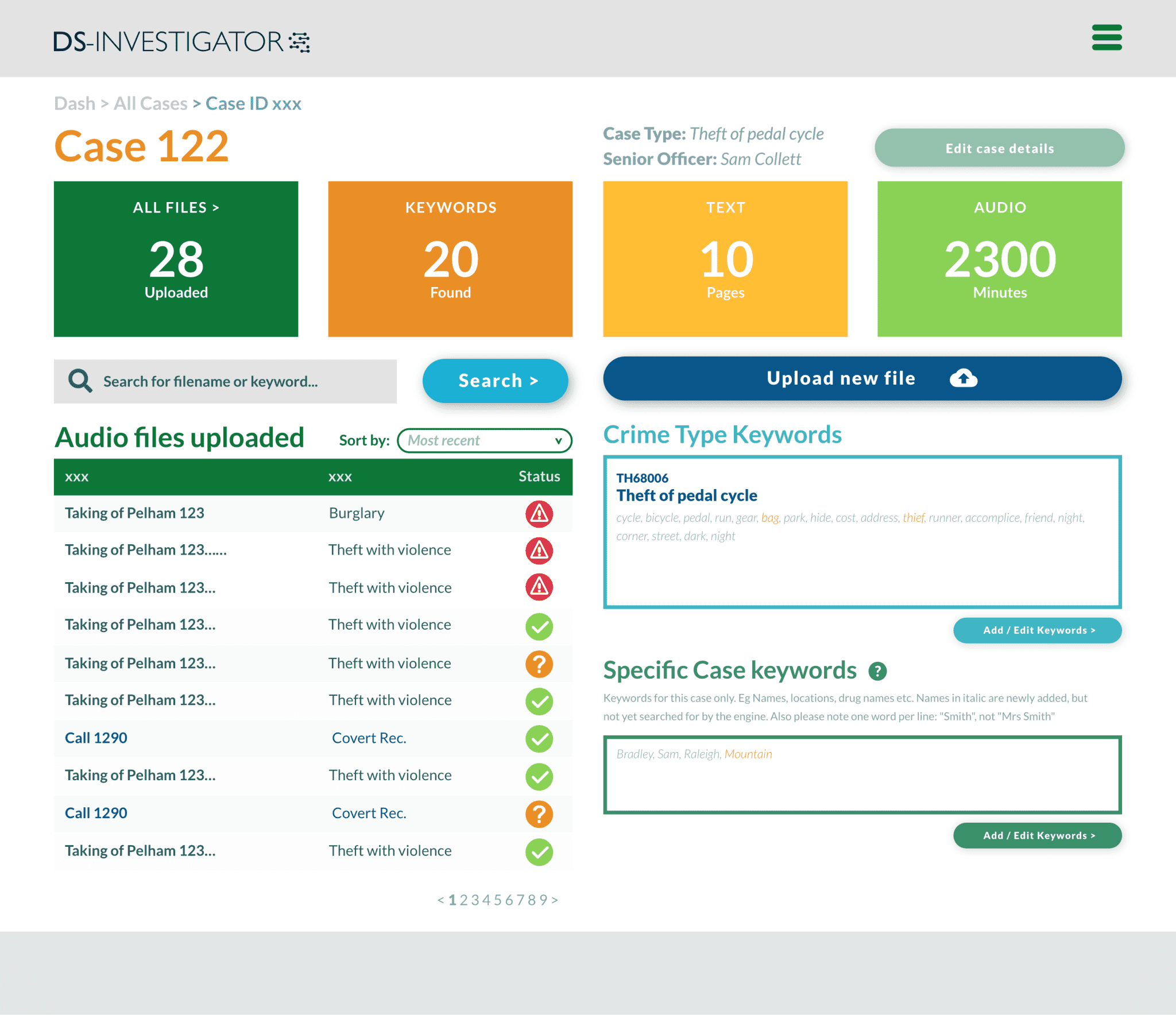 DS-Keywords and Social Media monitoring
Social media is a global phenomenon and is used as a sales channel by business. Social media posts contain insights and information that are gleaned by monitoring and analysis.
DS-keywords, the audio keyword identification and monitoring platform, fills this gap. Audio and videos posted on social media are collected and analysed for specific keywords and phrases. This can be achieved at high volume and with high levels of accuracy. This service is available in two forms: Police/Blue light support and monitoring the output of online influencers who have contracts with major brands.
For Social media influencers
Social media influencers are now common in certain sectors – for example, Retail.
Influencers post on different platforms frequently and paid by companies to mention certain brands in their posts. They are also contracted to avoid specific competitive brand names.
Additionally, a brand would want to monitor other posting by influencers to ensure they align to brand values and do not comment on controversial subjects.
Previously, the monitoring of such contracts was time consuming, incomplete and completely dependent on human intervention. DS-Investigator is now being used globally to monitor and detect keywords and phrases for several global fashion brands to ensure consistent compliance of their contracted influencers: This ensures that they mention keywords, avoid competitors and have early warning of other controversial postings.
Other possible applications for social media monitoring
One potential example of this is the detection and monitoring of agents and representatives posting commercial messages which encourage or promote grey market products (the selling of cheaper products intended for one market in another without permission from the manufacturer and against licence terms). In this case, audio and video posting can be collected, analysed and keywords and phrases monitored.
DS-Keywords for Law Enforcement
DS-Keywords enables users to process, transcribe and analyse audio files using Artificial Intelligence (AI) for keyword and phrase matching with built in templates and workflow for management, audit and disclosure.
The application dashboard manages the source audio and transcribed data files.
The dashboard displays transcribed text with highlighted keywords and the ability to jump to keywords within a source audio file.
Automated notifications alert users to matched keywords.
Cases are used to group audio files for management. Templates allow the generation of automated documentation for investigation teams and for disclosure.
DS-keywords in operations
DS-Keywords is used to provide a service to well-known retail brands. This service is used to monitor social influencer contract compliance, who can be paid considerable amounts for their output. As social media promotion continues to grow as a sales channel, then ensuring value for money and compliance to contractual terms will require objective tools for analysis.
This service provides employers with a view of employee, candidate or client activity online.
Talk to us
Please contact the team for a demo.
More information
More information and video
DS-Keywords has multiple inputs including video / text / voice / images / pdf
AI Driven Keyword analysis in documents
DS-Text is a text analysis platform that identifies keywords and phrases within digital documents. This applies to any type of documents including: regular files, reports, social media activity, online forums, reviews or news reports.
The platform identifies keywords and phrases in any written document and also identifies keywords in images, perfect for OCR or photocopied digital images. Once the words within the image have been revealed, DS Text will run and identify any keywords. DS Text uses artificial intelligence with natural language processing (NLP)
DS-Compliance has developed a range of analysis tools that enables the identification and analysis of keywords.
Features
The following features are included in the services:
Ability to analyse unstructured text data quickly and accurately
Finds keywords and phrases in large amounts of text data. Statistics generated include word frequency and keywords co-located within specific phrases
Automatic file uploading at bulk scale with no reduction in analysis speed or accuracy
Online platform that only analyses the files but does not retain any data
Talk to us
Please contact the team for a demo.
More information
More information and video

Staff vetting is an important part of corporate life; protecting company brand and reputation.
Most employees will be regularly active on social media and online. Vetting is conducted during both the recruitment process and during the employment period. 
DS-Compliance offers a two tier service that covers all aspects of staff vetting included in this new area.
Two levels of service
DS Vetting Base Module: DS Compliance establishes where staff are posting or active on social media. A report is issued that displays a Red/Amber/Green status to each discovered activity.
DS Vetting Analysis Module: the graphical distribution of social media usage is enhanced by analysis and segmentation of online activity. A report will include the features in Base and deliver analysis of activities including postings and broadcasts.
DS-Vetting Use Case for Education
New legislation from Ofsted requires schools and other education establishments to provide active due diligence for employees and candidates.
DS-Vetting offers a two tier service that covers all aspects of staff vetting included in this new area.
Two tiers of service for education
DS Vetting Base Module: Using robust AI, DS Compliance establishes where staff are posting or active on social media or online. This allocates Red/Amber/Green tags to each site visited and this is displayed graphically to the client.
DS Vetting Analysis Module: Building on the Base Module, analysis conducted by qualified personnel creates reports that deliver analysis of activities including postings and broadcasts.
DS Vetting gives employers an objective view of employee activity online. Used as part of an overall HR strategy to ensure employees comply with their contract of employment and Staff Handbook on bringing an employer into disrepute.
DS-Vetting with DS-Voice
For employers that need evidence of employee online activity, then DS-Voice (DS Compliance's AI tool for finding keywords and phrases in voice and video files) can be used to detect and display evidence of activities or statements that may not be in line with corporate values from audio and video posts.
Features
The following features are included in the services:
Preventing brand and reputation damage to the employer
Demonstrating any undesirable characteristics in online activity
Highlighting support or involvement in illegal activities
Identifying connections to proscribed organisations, terrorist groups, lobbies, advocates and / or activist groups
Finding adverse media or news reports and breaches to company policy
Outlining the leaking or potential of leaking confidential information, impact on client relations and exposure to bribery, corruption or fraud
Benefits
These are the benefits of using the services:
Covers most social media platforms including Dark Web activities
Profiles users, channels, and content. Provides R-A-G status to quickly identify problematic accounts
DS Voice provides flags for key words and phrases across potentially hundreds of hours of video
DS Voice provides forensic examination of voice files
Talk to us
Please contact the team for a demo.
DS Dash: GDPR is a comprehensive platform for compliance and GDPR issues for SMEs. This innovative service provides a complete modular management platform for GDPR and other compliance regulations
What is DS Dash: GDPR?
A platform that deals with the time-consuming compliance demands
Alleviates the legislative changes & monitoring challenges businesses face
Manages data breach support and Subject Access Request management
The Case Room module provides a curated space for template, document and material storage

Including privacy statements, evidential records, voice files and transcriptions

Expandable platform where additional services are available from DS Compliance
Talk to us
Please contact the team for a demo.
The benefits of
DS DASH: GDPR
©
DS DASH:
GDPR
©
delivers peace of mind and guidance through the GDPR compliance process.
Many organisations have made adjustments for GDPR but encounter challenges in demonstrating compliance. DS DASH: GDPR© delivers an effective tool for the discovery and management of any ongoing compliance gaps, plus access to templates for third Party Data agreements, internal documentation, policies and more.
DS DASH: GDPR© is far more than diary management. For large organisations with greater risk and volumes of DSARs, the proposition is attractive. The system will deliver an organised management process. Smaller businesses will benefit by applying less resource and gain access to a comprehensive knowledge structure.
Join today and strengthen GDPR management!
Contact us to book a demo at
info@ds-compliance.com or
complete the form.