About Us
The DS Compliance Difference: Business Results and Competitive Advantage from Delivering Cyber Resilience.
Our Heritage
We have built our company based on strength and extensive experience in our field. DS Compliance was founded by senior management who led teams at KPMG, PWC and BT making us the perfect solution for Cyber Security.
Our Expertise
We are certificated and highly experienced data security experts, linked with accredited and highly experienced police investigators.
Our Service Offering
Our commercial arm ensures products, services, pricing and placement in the market are sophisticated, proven and cost-effective.
Proven Success
Information Security as a Competitive Advantage
Managing and ensuring the security of data delivers competitive advantage that is fast expanding into the cyber sphere. We increase cyber ability and capability. We make the complex simple with trusted advice and trusted practice.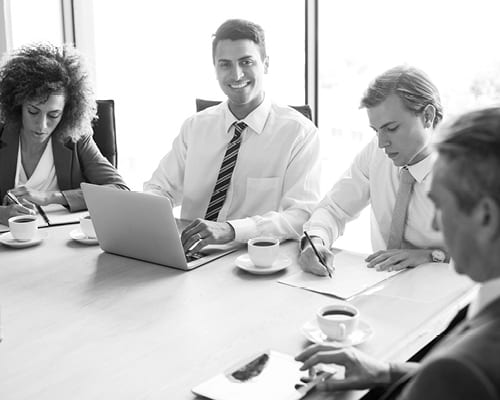 Meet the DS Compliance Team
Bradley Geppert
CEO
Bradley has been involved with Information security for over 20 years providing, packaging and bringing to market intricate Cyber Security solutions at Government and national levels. Data Protection Officer for a number of companies ranging from Accountancy firms to advertising agencies.
David Clarke
Data Security Inspector
David has experience across Finance, Telecoms, Public Sector including developing CERT on a Financial Intranet trading $3.5 Trillion a day, Managed Security Services with a $400 million dollar Global install base, Transforming Cyber Capability into Cyber Resilience. Including Leading edge Product Selection, implementation and architecture. In these sectors David has built Secure operations capabilities from scratch, developed full Cyber incident response expertise , created , maintained and improved regulatory and compliance commitments including PCI-DSS, ISO 27001.
Andrew Beckett
Chairman
Andrew is a hugely experienced Cyber practitioner, leader and mentor. Having started his career in the civil service, Andrew went on to build and manage cyber teams and business lines for multi-national companies in both the UK and abroad. His experience in building businesses from the ground up, including his own which he sold to Airbus, will be invaluable in helping lead DS Compliance on the next stage of our growth and evolution.
Richard Ellis
IT professional specialising in information security
Richard has over 30 years experience in the industry and for the past 15 years, has worked as a cyber security consultant with clients ranging from multinational organisations in the private sector such as BP, Credit Suisse and HSBC to government organisations including HMRC, the Foreign and Commonwealth Office, the National Audit Office and the Ministry of Justice as well as non-departmental bodies and local government.
Testimonials: What our clients say…
Know this. The structure of business has changed since GDPR. It is essential to have a DPO managing the process. DS DASH: GDPR© provides that service for us.
DS DASH: GDPR© has enabled us to update and maintain our GDPR strategy. We were particularly happy with the archive of documents, tools and reports that have helped us manage internal, supplier and customer facing issues.
We were in trouble. We had no training and a spreadsheet from our lawyers. Since working with DSC we now have in-depth coverage and key personnel are up to speed.